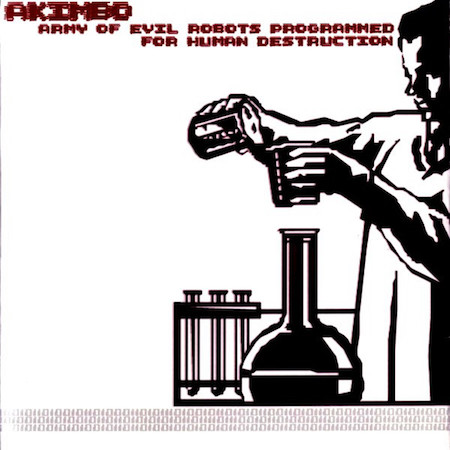 "Army Of Evil Robots Programmed For Human Destruction"
Hardcore 7" vinyl (clear vinyl)
Rock & Roleplay
RNRPR#005 (2000)
I paid $5.99 for this record.
I love the crappy font on this record cover. I love the label name. I love that it's local kids. I love that they call the sides "programme"s. I love the long song names. I love the crappy websites (tripod.com?). I love the opening movie sample. I love the relentless build of the first track. If I loved Botch, I would love everything else about this as well. I do kind of like the screaming to close out the first track. I don't like the long pause between the two tracks. I can't get into the lack of cymbal sound or the weird key of the second song. I do like some of the rhythms, though.

I suppose there's kind of a little scene that existed around the turn of the millennium up here in the NW with this type of thing, screamy vocals and technical rhythms. Himsa, Botch, Kane Hodder, Etc. It's pretty fun for a bit, but I think I'm kind of over the yelling and the bashing around. Maybe I'm too dumb for it now.
Tracks:
A1: Army Of Evil Robots Programmed For Human Destruction
A2: The Moment Between Silence And Conversation
B: Car Crash # 4

Last updated: 08/05/2017
281 views
comments powered by

Disqus