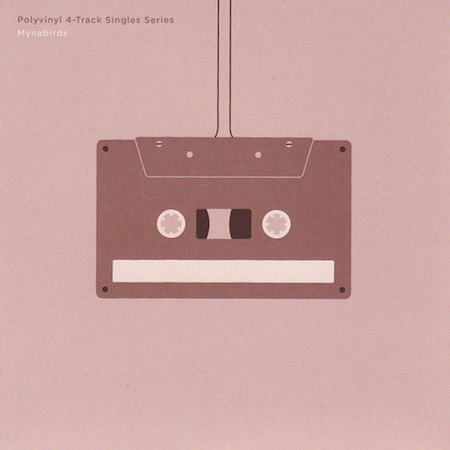 "The House That Heaven Built"
Indie 7" vinyl (clear vinyl, /500)
Polyvinyl
PRC-9177 (2014)
I paid $10 for this record.
Man, I'm so stoked on this
Polyvinyl 4-Track Series
. Apparently the geniuses at
Polyvinyl
shipped a 4-track around the nation to various artists and told them to get after it. I signed on pretty much the moment I heard about it. I love record subscription services and I love random surprises, so this was right up my alley.
The first entry is a single by Mynabirds. Which is kind of a let down for this old, jaded sort of pop-punk guy.
Mynabirds
serve up a cover of Japandroids' "
The House That Heaven Built
". I'm probably not alone on this, but that is my favorite Japandroids song. Laura Burhenn (and possible backing musicians who form Mynabirds) slow it down a bit and take it to a skipping 4th period to go to the beach in San Diego because our parents are rich and we don't need school anyways kind of a vibe. The gentle hiss of the 4-track further washes out the pastels of drum machine and keyboards and pretty much takes all the fun out of the song. Weird, whispered overdubs or maybe some vocal effects just make me more sad. Or maybe I'm jealous that I can't just chill out and enjoy the sunlight, man.
The B-side is a more interesting pop song. In the current realm of pop, this would be probably akin to an Adele song. A solemn jam with soulful vocals. Locally speaking, Burhenn's vocal style brings up memories of Carrie Akre or perhaps Jesse Sykes. A little shuffle and some Rhodes-like keyboards make a sparse and non-threatening tune that will undoubtedly please many modern music listeners, but ultimately lacks the possibility of my passionate embrace. Ah well.
Despite my less than enthusiastic thoughts of the music, I am sorely impressed by the record when considering that it was composed on a simple 4-track. I'm very excited about the upcoming releases in this series if they all have the quality of this one.
Tracks:
A: The House That Heaven Built
B: Forget It

Last updated: 02/26/2014
406 views
comments powered by

Disqus