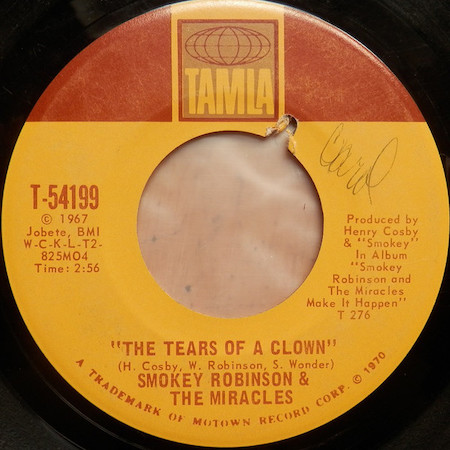 "Tears Of A Clown"
Soul 7" vinyl
Tamla
T 54199 (1970)
I paid $1 for this record.
From the instant it begins, with that tambourine, bassoon, and keyboard, this song absolutely shreds. The bassoon as a rock/soul instrument is a weird choice that 100% works as a bass line melody here. Like a marching band or one of those mechanical player pianos that accompany funhouses at the county fair, the song is relentlessly unstoppable. Smokey's smooth high voice brings in the more standard instruments for the verse and classic 70's Motown layers build and weave together the sad story of a dude feeling trapped by the patriarchy, unable to express his sadness until no one is around, just like a clown at the circus. A sad story with a perfect melody and a comforting, upbeat rhythm is the formula for the perfect song in my mind, and this may be the prototype that all my favorites are based on these days. Incredible and fantastic.

There's also another song on this single and it is... fine. No hook or passion that compares to the A-side and it's a little bit weird and not thought out. Like "for every year you give me, I'll give you two"? What does that mean? Probably just using the successful formula and putting in some words that fit. Promise Me is a bit phoned-in and drags the overall rating of this single down a bit. You're going to play the A side until your needle wears the grooves smooth and then you're going to get another copy of this because Tears of a Clown is a treasure that this world is not worthy of.
Tracks:
A: Tears Of A Clown
B: Promise Me

Last updated: 05/28/2022
82 views
comments powered by

Disqus