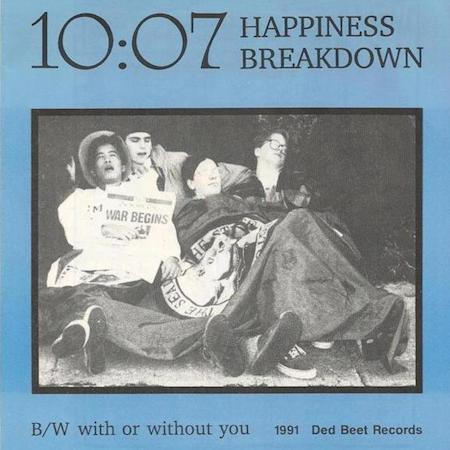 "Happiness Breakdown"
Pop-punk 7" vinyl (KZSC wrote all over it, /1000)
Dead Beat
DedB17 (1991)
I paid $0.1 for this record.
I got this record during the 1996 annual record purging sale from my college
radio station
. I barely listened to that radio station because they played a lot of world music and other hippie stuff. It's telling that I only picked up this record and a
Best Kissers In The World
promo and then never went back.
This is the record that made me fall in love with 10:07. My Korean Skinhead friend John was my musical tutor early in my high school career and he gave me a number of mix tapes with bands that saved me from listening to grunge. One one such mix tape was this EP and the
Spackle and Grout
EP by this local band. Once the line rang out "...but you're out of luck 'cause your friends don't give a fuck", this impressionable youth was hooked. The first half of the title track is a bit sower than I remember, but the breakdown is AMAZING! It's a relentless guitar and bass rhythm backing the top-volume phrase "Break down" repeated a couple too many times. This song probably inspired my love of the dramatic pause in fast rock songs. The hint of feedback as the guitarist palm mutes and the drummer grabs the ringing cymbals. The complete dynamic change from blasting to silence. It's a wonderful trick that many of my rock heroes use.
However, the real winner on this record is the stellar and hilarious version of the oft-covered "With Or Without You" by U2. I definitely sang this cover version more than the original. It's sloppy and loose, but the multiple vocalists (or overdubs? I never could tell) interacting is ridiculous. Lines like "I really hope U2 doesn't sue us!" and "It's a dramatic pause, shut up!" culminate in a lyric change for the last verse that I won't ruin for you here. You have to hear this song. If you can find a copy, get this record.
If you like this review, you can buy me a coffee.
Tracks:
A: Happiness Breakdown
B: With or Without You

Last updated: 02/26/2014
800 views
comments powered by

Disqus