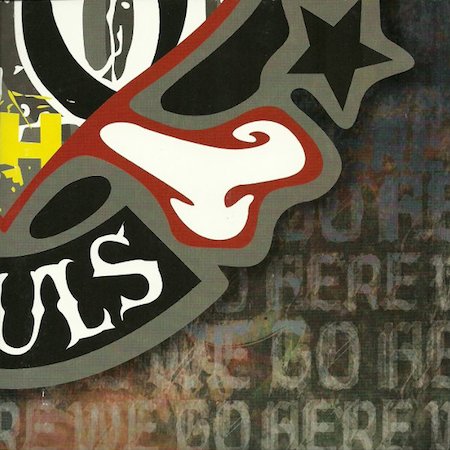 "20th Anniversary Series, Vol. 4"
Punk 7" vinyl (black and pink and white splatter, tour edition, /1000)
Chunksaah
CAR037 (2009)
I don't remember how much I paid for this.
Ah yes, the last record in the Anniversary series. Another cool vinyl, this time black/white/red splatter. Mine has a red transparent chunk in it, which is like a little demonic window through the record. As long as we're talking about the vinyl itself, I should probably say that the decision to put a locked groove/lead-in groove before the second track on the B-side of every one of these was kind of dumb. That is all.
Like The Sun
takes some cues from Rancid's step back from punk offering,
Life Won't Wait
, and adds some organ. The vocals get a pit punker as they hover near the edge of control in the bridges, but overall this song is not spectacular.
Switching styles yet again, The Souls channel their Jersey neighbors
The Gaslight Anthem
and put in a shuffling acoustic/electric song. I'm sure their hearts are in the right place with this one but it comes off as kind of a patronizing song about rescuing a girl from that big bad world out there. "Hey, little girl" in the chorus definitely doesn't help. It's a lot like when dudes say to women, "Just smile," when they're walking down the street. They don't really need to be saved, guys, they can handle that themselves.
The B-side gives us a punk medley and an acoustic version of
Ghosts On The Boardwalk
. The punk medley
Never Say Die/When You're Young
can't help but be compared to Green Day's five short songs in one medleys, and that is not good. The first half is a bit Social Distortion, no messing around, short, punk blast into a quite sedate you-kids-better-do-better-than-me old guy rant. I suppose that's acceptable on a 20th Anniversary record, but I suppose I'm just not old enough to think that way. The kids will do what they want. These two half-songs fit weirdly together, until the never say die refrain is brought back at the end. It's still kind of a bummer.
Ghosts On The Boardwalk
makes more sense as an acoustic, but it's still pretty wistful and those synths have got to go. When they finally fade out at the end and it's just guitar and vocals singing "ahhhhhhh you say you're lonely", it almost justifies you having to get off the couch to pick up the needle and restart the side in the middle for no reason.
Overall, the Anniversary series looks nice, but is kind of a let down. There are some moments on each one, but volume 4 is the worst, and none of the songs are all that inspiring. Nonetheless, The Bouncing Souls probably don't care what I think. They'll keep doing what they want as long as people keep buying records. You have to respect that.
If you like this review, you can buy me a coffee.
Tracks:
A1: Like the Sun
A2: Big Eyes
B1: Never Say Die/When You're Young
B2: Ghosts on the Boardwalk (Acoustic)

Last updated: 05/17/2020
505 views
comments powered by

Disqus