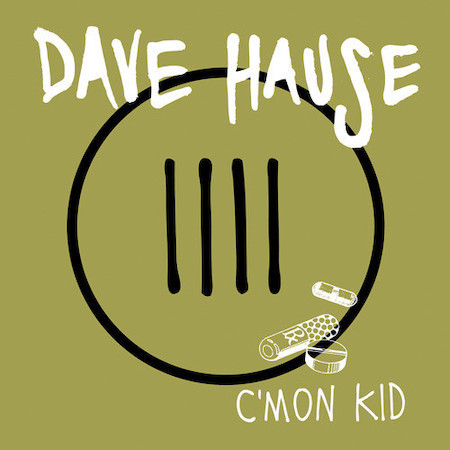 "C'mon Kid"
Alt-country 7" vinyl
Sabot Productions
ACT038 (2012)
I don't remember how much I paid for this.
This is my favorite of this series of Dave Hause 7" releases on various labels. He continues the pattern of two originals on the A-side and two covers on the B-side, but this record brings the heat.

C'mon Kid is a hardcore-retirement punk country anthem of positivity. A piano-based ballad of encouragement that is a little cheesy but still great. Undoubtedly Hause is singing this for a close friend or a future kid or something, so it feels heartfelt (like all his work) and sincere and the cheesiness is easy to stomach. It probably could end a bit sooner, but it makes sense to go on a bit too long as he continues to encourage our imagined listener and they maybe just aren't quite getting it. Or maybe we are the ones who are not quite ready to take on this positivity and go out and take those first steps to face our problems...

The follow up to this lead anthem is a very distant and nearly mumbled song that is difficult to engage with after singing along with the opener. Perhaps this is a purposeful choice to give us a break before we flip the record over. The first track on the B-side is a cover of a None More Black song that goes back to the melodic hardcore roots of this alt-country-ish man and his guitar. It's a welcome loudness and intensity for fans of Hause's earlier work, undoubtedly, and it gets the kids singing along right from the beginning. You can see the pointy fingers in the air in the crowd throughout the song. Honestly, it might be better than the original.

Ending with the Lucero song Joining The Army is another weird choice that makes this record a bit uneven. Topically, I can't get on board with the song, but I see how some folks could. Musically, it's pretty straightforward punk/country stuff, but it seems that Hause follows the album version with the next track, Tonight Ain't Gonna Be Good added on as a medley that just fades out? Maybe they just ran out of space on the record? It's a strange choice that makes the record as a whole a bit weaker. I think if this was a single with just the first songs on each side, it would rule. As it is, it's still pretty good, but you'll probably end up lifting the needle before it is over.
Tracks:
A1: C'Mon Kid
A2: Prague
B1: Oh, There's Legwork
B2: Joining The Army

Last updated: 06/02/2022
512 views
comments powered by

Disqus