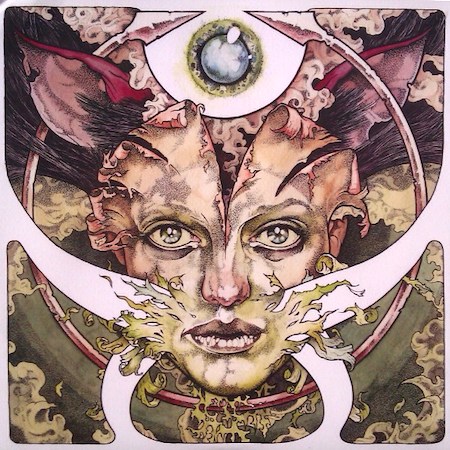 "The Holy Mountain / Black Tusk"
Metal 7" vinyl (Green mix, /500)
No Idea
NIR 236 (2010)
I paid $1 for this record.
I don't usually like metal, but this is pretty stellar.
The Holy Mountain
side begins with a MASSIVE metal guitar intro. A little feedback and that two-guitar harmony that only metal kids can seem make. It speeds up and gets frantic and the demon-throated singer growls over some meedley meedley guitar licks, backed up by a chorus of similarly demonized voices. Fantastic tempo changes break up the possible monotony and honestly, just make me giggle a little. Sometimes metal is like that for me. This posi-metal song about anti-racism and anti-sexism is pretty fantastic. They follow it up with a feminist metal song about human trafficking, maybe? Definitely about violence against women. Lines like "There is no ownership implicit in gender" and "The shame of a species, this masculine legacy" are pretty good hints that this band of dudes is trying to do the right thing. By crafting some pretty solid metal songs about how the wrong thing is definitely wrong.
Black Tusk is a faster metal band, more frantic and chaotic. They're more metaphoric than Holy Mountain's literal lyrics. They employ a great tearing and chainsaw-like guitar sound. An awesome call and response with a line screamed overlapping a growled response is just one of the highlights of this song. They also throw in a spectacularly dramatic cymbal roll pause near the end followed by a blasting outro to deliver the last line: "My guilt haunts me." Don't feel so guilty, guys, you're doing a find job of crafting songs.
For someone who doesn't like metal, I'm pretty impressed by this record. I don't think I'll be singing the songs any time soon, but if I need a positive giggle, this might be a good choice.
If you like this review, you can buy me a coffee.
Tracks:
A1: Remains — The Holy Mountain
A2: Possession — The Holy Mountain
B: Beneath — Black Tusk

Last updated: 05/03/2020
490 views
comments powered by

Disqus