In Which Bon Joviís The Circle Tour Starts at Key Arena
Review
I think I heard somewhere that good writing usually divulges some dark, personal secrets. I can't claim to be a good writer, but here are two secrets I shouldn't tell anyone.
1. In 4th or 5th grade, my mom walked in on my friend Mike and me. We were in front of the mirrors in the living room, playing air guitar and singing. The tape playing was Bon Jovi's Slippery When Wet.
2. I like Dashboard Confessional.
There, I said it. Now that these horrible secrets are out in the open, we can have an honest conversation about what happened last night at Key Arena. According to the three young girls that sat next to me, what happened was "awesome."
Dashboard Confessional opened the show to an arena about half-full. Whenever I mentioned this lineup, my friends thought the combination of bands was strange. Perhaps it was some sort of attempt by Bon Jovi to attract a younger crowd. Judging by the reaction of the audience, they weren't there to see Chris Carrabba sing about his ex-girlfriends. A couple ladies in the front were up and dancing, but in general, all I saw were people sitting and politely clapping or the red cushion of an empty seat.
I don't think Dashboard Confessional songs work very well as arena rock songs. In fact, I don't think they work as rock songs at all, and Carrabba should stick to playing them as acoustic singer/songwriter jams in small venues. His demeanor on stage appears to agree with me. Carrabba looked uncomfortable in the middle of the big arena and even said, "Thanks to Bon Jovi for inviting us out, that was very kind." Hopefully they will find some self-confidence as the tour continues.
Bon Jovi took the stage dramatically to a recording of their song "This is Our House"--a song that could easily be the theme to a hockey team entering the ice. This began their two-and-a-half-hour marathon set which included three encore songs. Here is the massive and all-encompassing set list.
This is Our House (recording)
Blood on Blood
We Weren't Born to Follow
You Give Love a Bad Name
Born to Be My Baby
Roulette
Shot Through the Heart
When We Were Beautiful
Lost Highway
Superman Tonight
We Got it Going On
It's My Life
Homebound Train
Hallelujah (cover of Leonard Cohen song)
Bed of Roses
Something for the Pain
Hey God
Work for the Working Man
Bad Medicine
Who Says You Can't Go Home?
Love's The Only Rule

encore:
Thorn in My Side
Wanted Dead or Alive
Livin' on a Prayer
Despite my distant seat and the tens of thousands of other people there, this show felt surprisingly intimate. Jon Bon Jovi appears to be a personable and genuine guy and his between song banter was not as much typical rock deity filler, but actual conversations with the 20,000 or so people in attendance.
Yet, judging again by audience reaction, people are glad they played a healthy selection of old songs. They yelled the loudest for songs off Slippery When Wet. Bon Jovi acknowledged this himself, wryly: "Believe it or not, there were records before Slippery When Wet." They did play at least one song from most of their albums (except 7800į Fahrenheit and Bounce, their two least successful albums), but it was clear by the number of girls screaming that the crowd favorite was their best selling album.
Through the anthemic rock endings, costume changes, and thousands of watts of lights and projections, Bon Jovi followed the arena rock pattern of shock and awe. They played old favorites and introduced new material. In short, they did exactly what was expected of them. I would have appreciated some pyrotechnics, but those seem to be out of fashion in big rock shows these days. Despite the lack of explosions, I talked with a few people after the show and they all seemed to have enjoyed their experience. A couple were wondering about Bon Jovi's ability to hit the high notes in "Livin' on a Prayer" after a couple hours of rocking, but in general, I heard no negative reviews.
So, if you enjoy massive rock shows, I think Bon Jovi is a safe bet. Much safer than playing air guitar and singing in your living room. Sorry Mom.
Bon Jovi and Dashboard Confessional play their second show at Key Arena tonight, and it looks like seats are still available. Tickets range from $33 for an upper level seat to $500 for a VIP experience. The show starts at 7:30 p.m.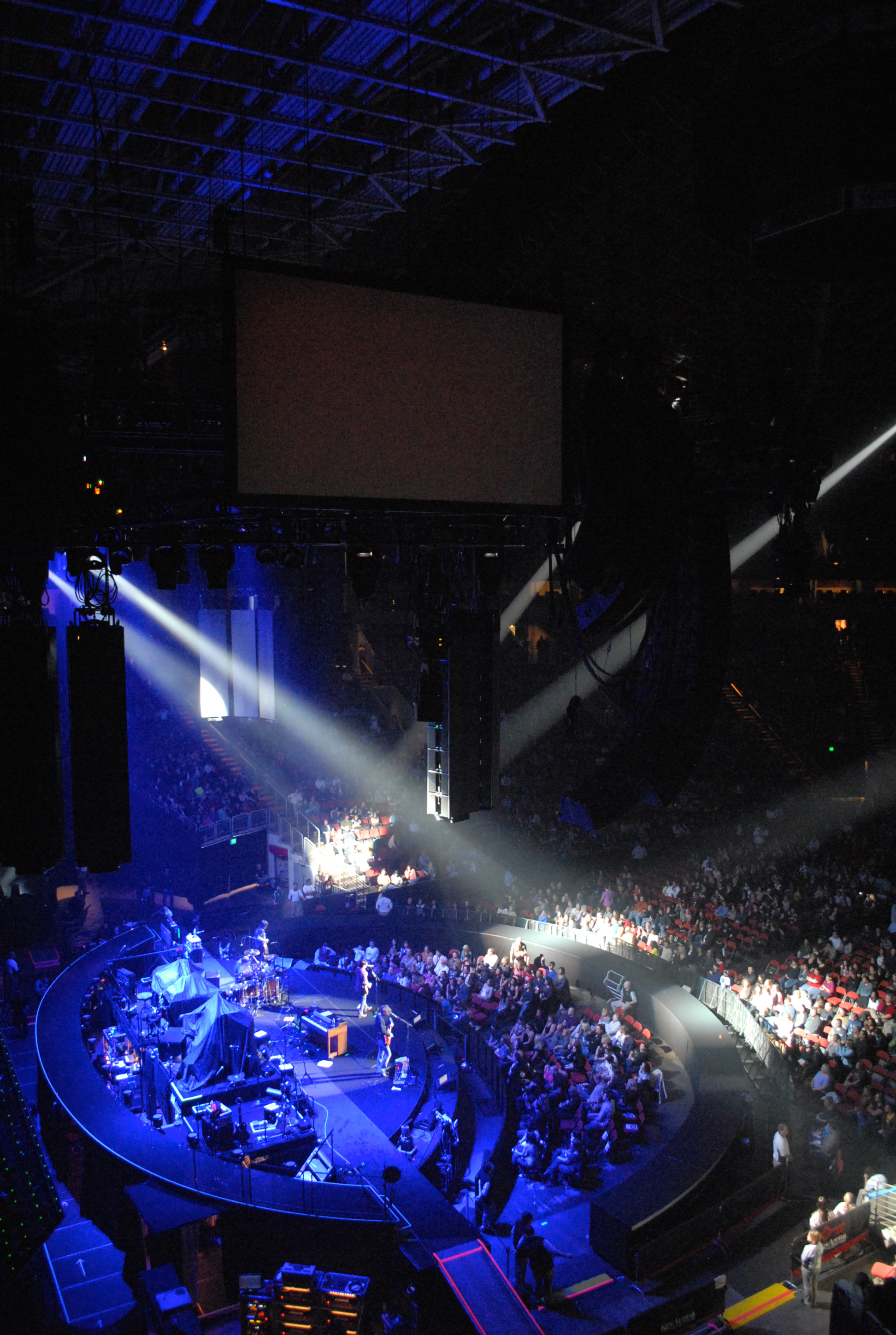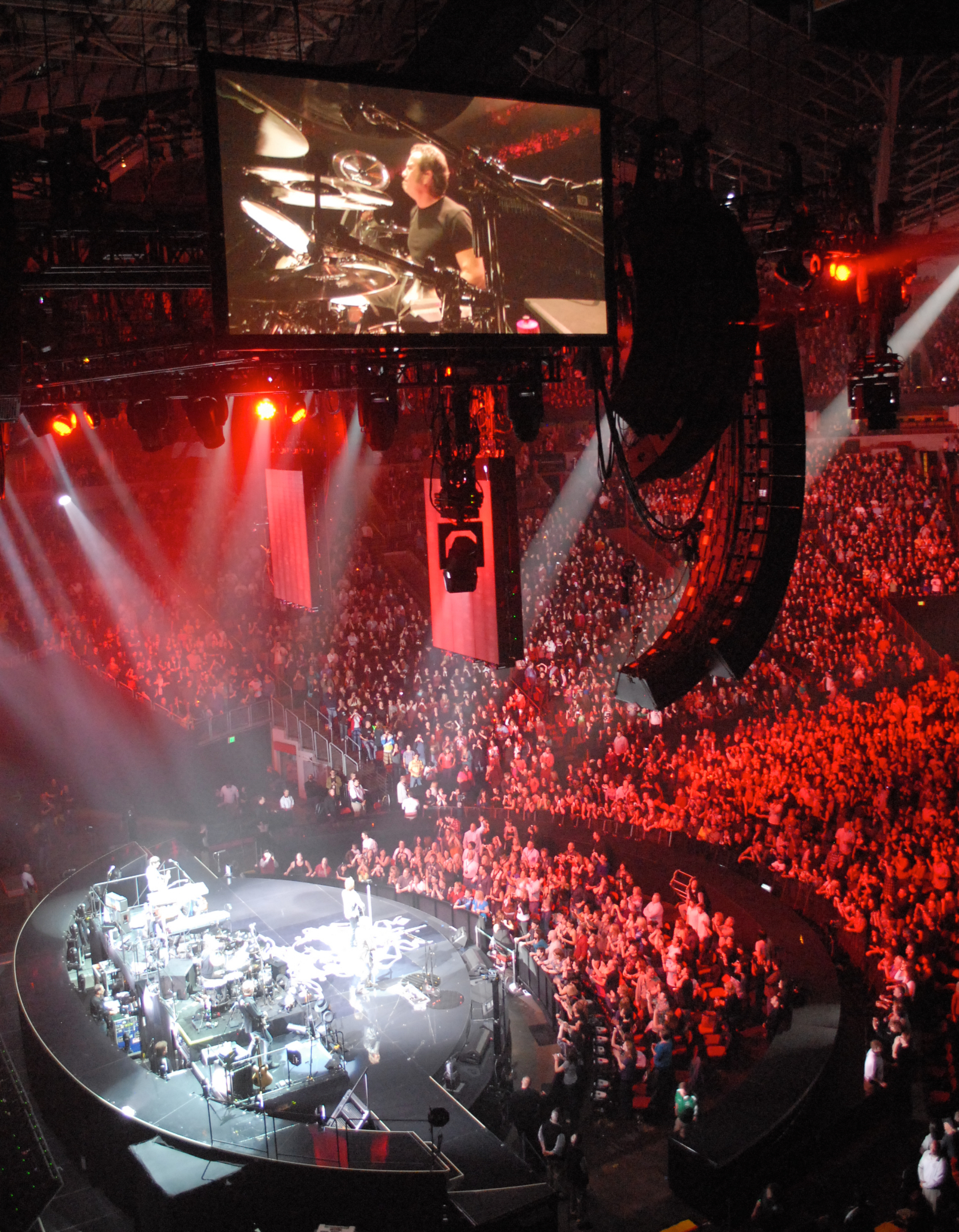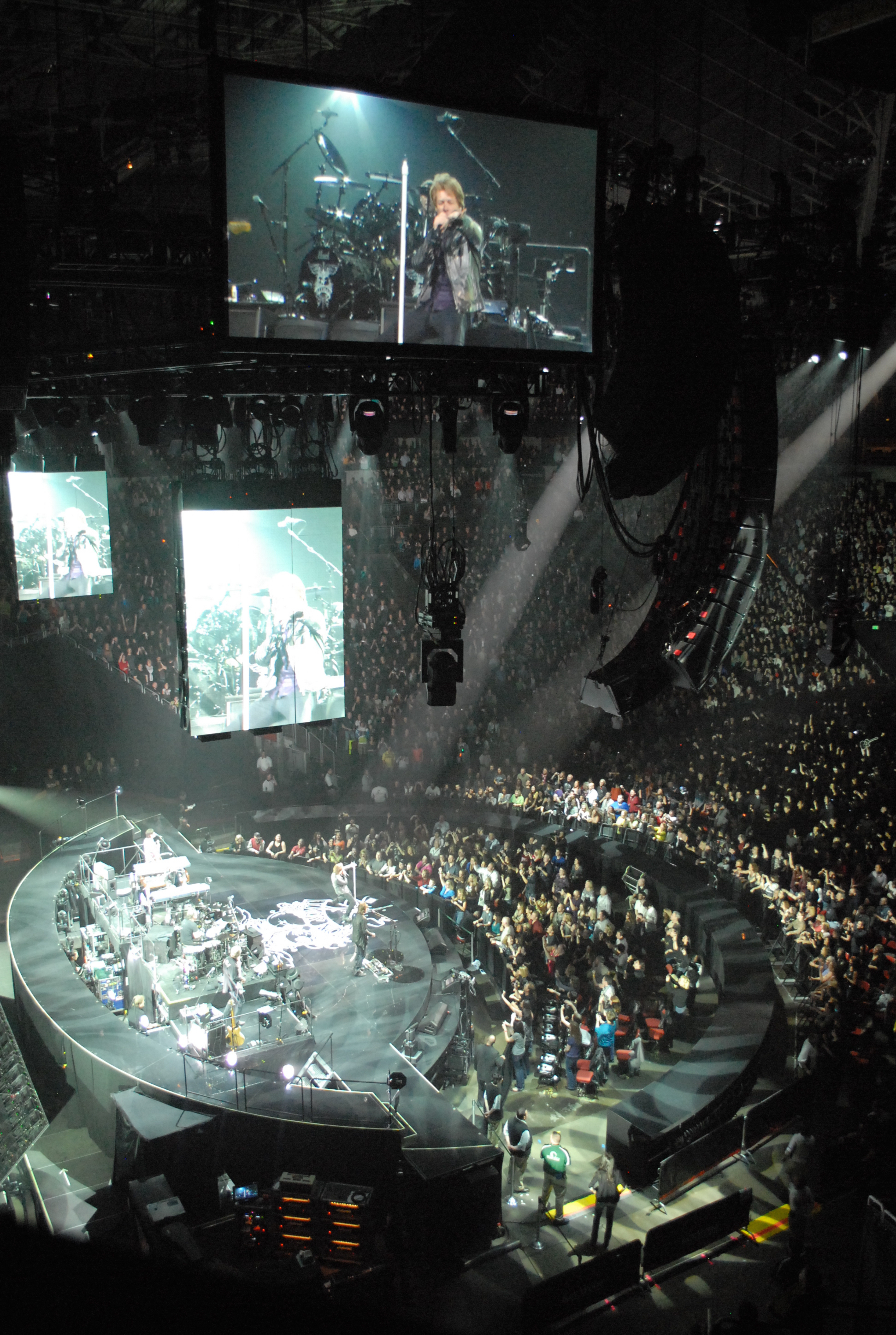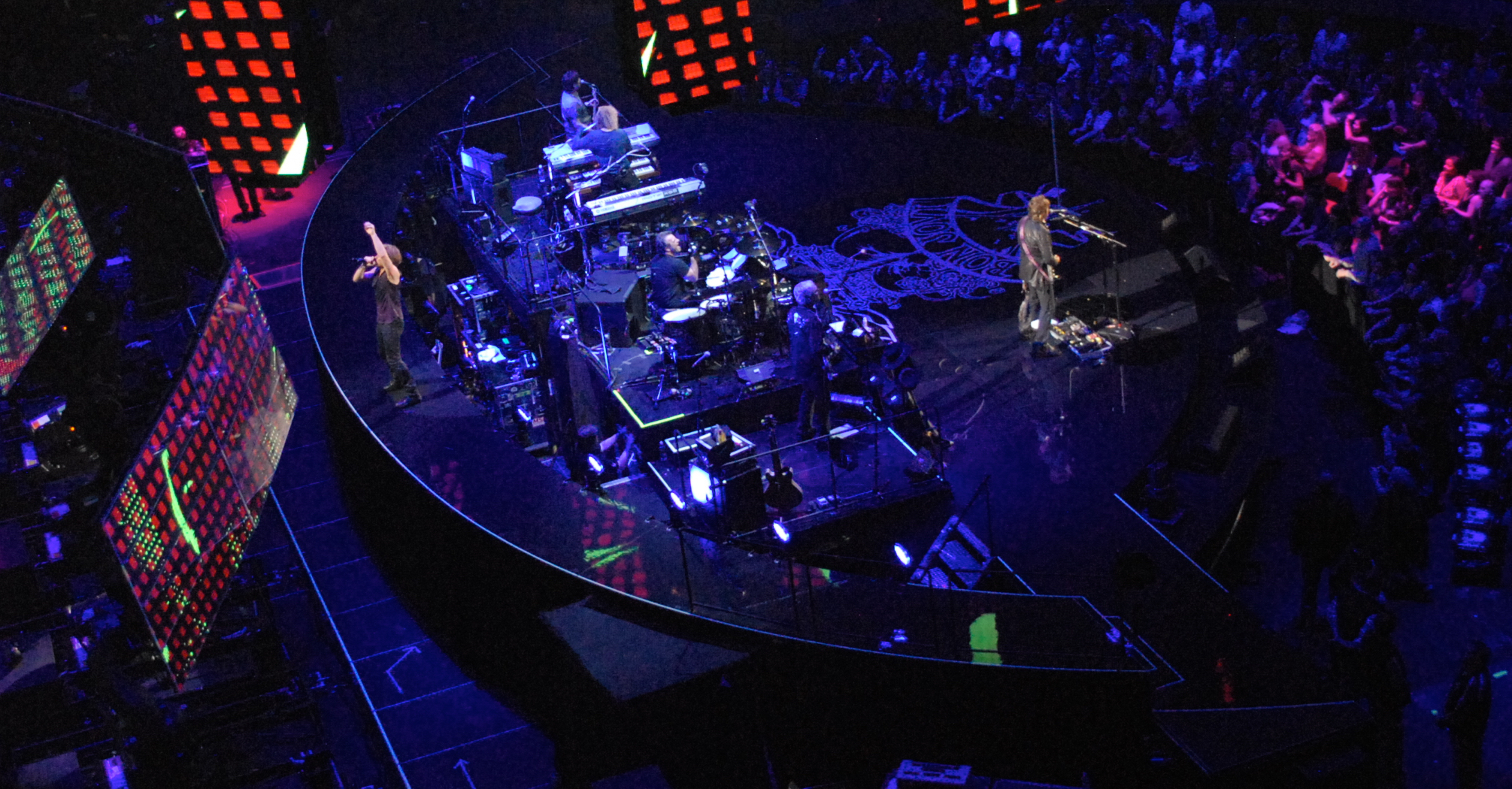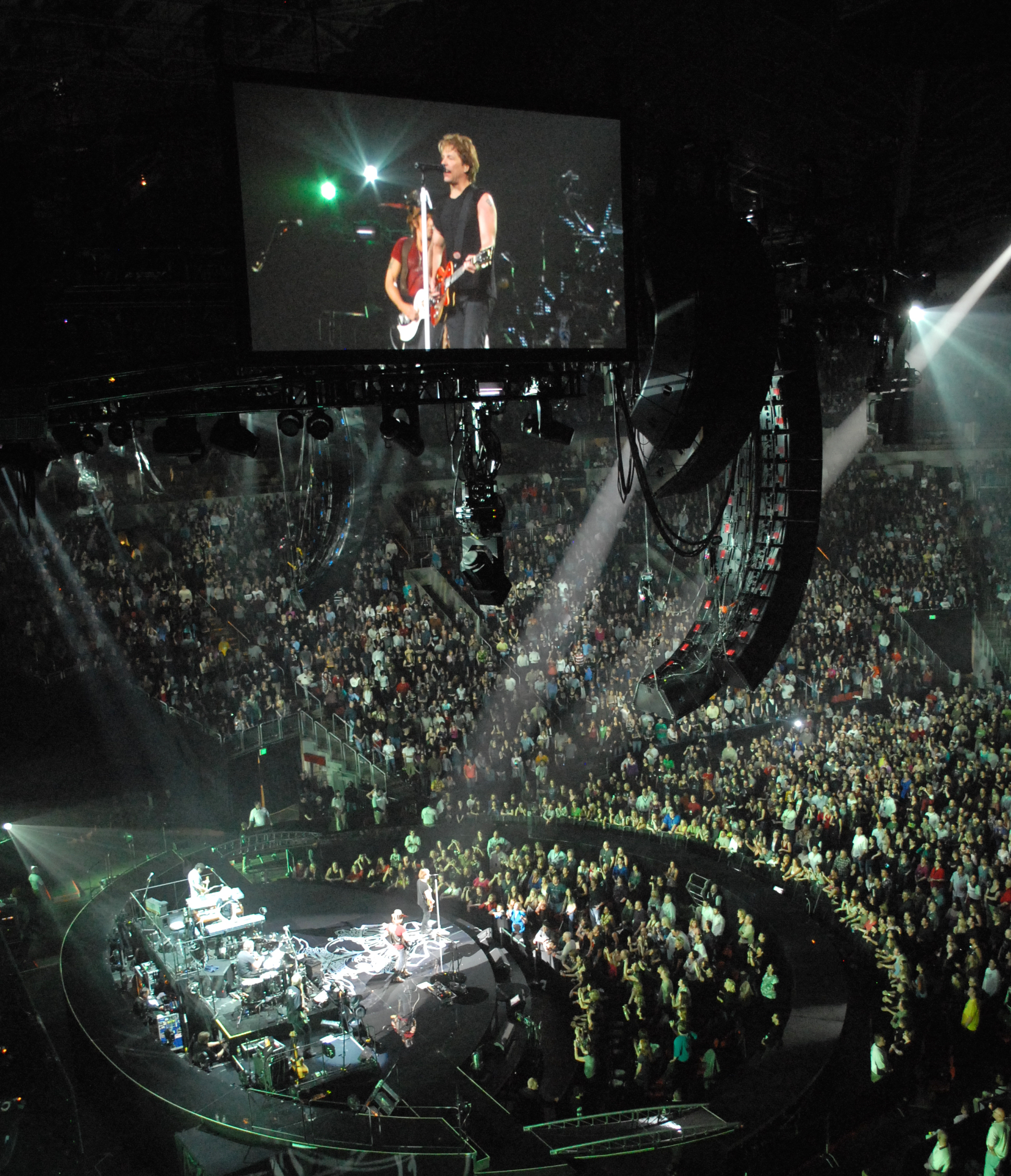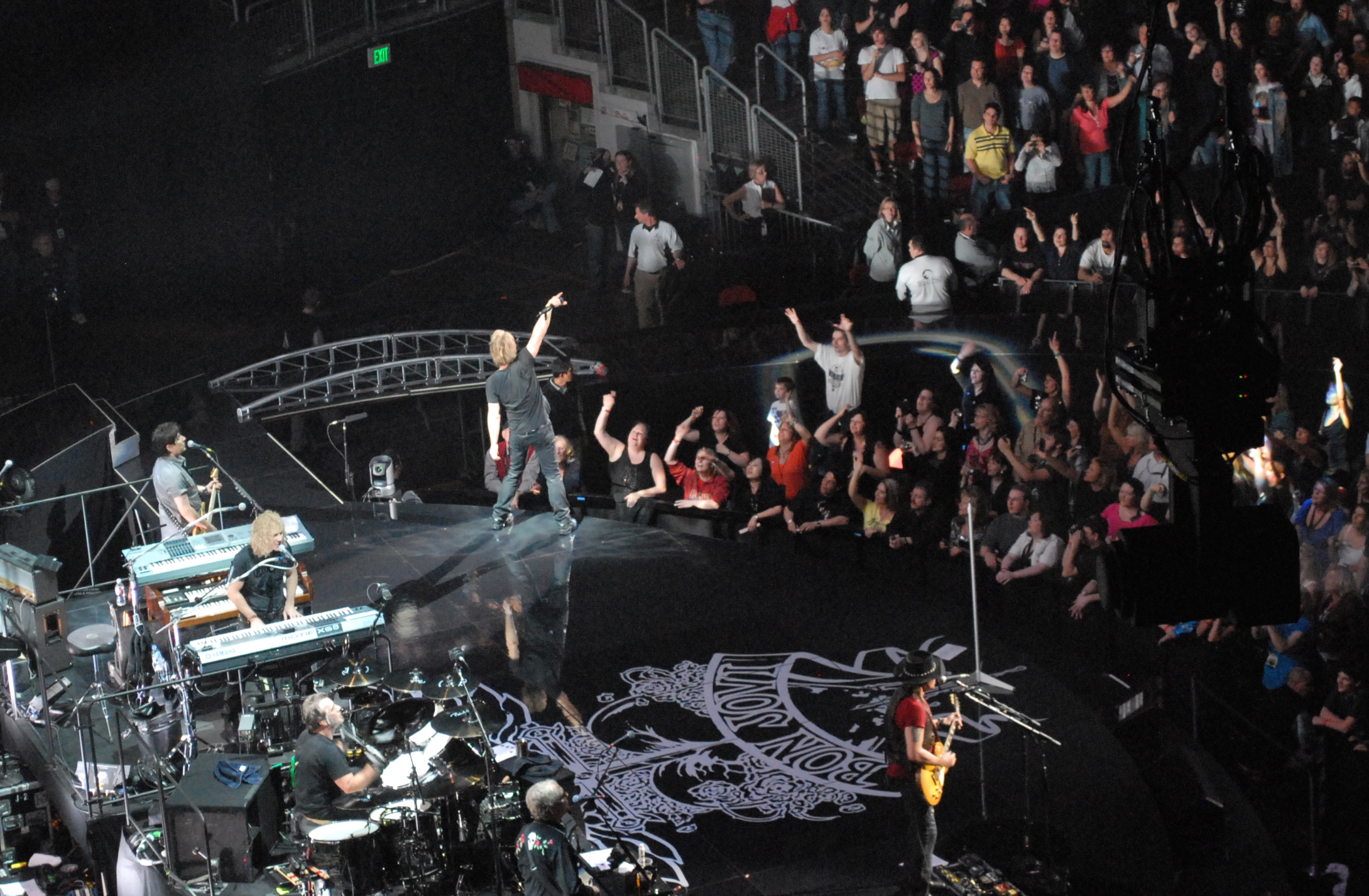 ** Old SunBreak comments **
Bon Jovi in Concert in Hawaii
Great recap. The Circle tour opened in Hawaii, at the same venue Bon Jovi LAST played at 23 years ago!!!! The show was awesome. And I went to both nights on Feb 11 and 12 and they changed up the songs a bit (the first night's encores were Tokyo Road, Wanted Dead or Alive and Livin' on a Prayer, the 2nd night just Wanted Dead or Alive and Livin' on a Prayer) between both nights with Jon Bon Jovi's only break singing lead when he let Richie Sambora sing I'll Be There for You after the band performed Hallelujah which they didn't play the first night. They are definitely NOT to be missed live. All these years later these guys still can rock and yeah, they didn't need pyrotechnics. Talent is enough!
Comment by Mona
RE: Bon Jovi in Concert in Hawaii
I was there the first night and it was great! I saw them 87, 2000 and 2003. This was as good if not better. They are getting better with time and the goose bumps which appeared during Livin on a prayer. Hawaii rocked it! By the way, someone posted Livin on a prayer from the first night on Youtube.
Comment by Kenn
Bon Jovi in Concert
Blood on Blood???!!! I can't wait! Hope they play that in Philadelphia! That is one of my all-time favorite Bon Jovi songs and they did not play Blood on Blood when I saw Bon Jovi in Pgh. in 2008.
Comment by Barb
Keywords: bon jovi, dashboard confessional, key arena, show, review, sunbreak
116 views
comments powered by

Disqus