The Revival Tour Hits Town on Halloween and Leaves Us All Smiling
Review
In the back seat of a '77 Thunderbird, squashed between my brother and sister while my mom taxied us somewhere, I learned to hate country music. It was the '80s and KMPS was playing corporate-filtered country through the cheap speakers of our American car. I guess anyone else would have felt the same. Things change.
Many punks and former punks are embarking on what I've been attempting to coin as the "punk rock retirement plan." Namely, country music. Chuck Ragan (of my favorite post-hardcore band, Hot Water Music) is quickly building a reputation as a master of this genre. His Revival Tour gathers musicians from various punk and non-punk bands to join him onstage.
A Revival Tour show is organized much like a true Southern revival. The music starts with all of the bands and performers on the stage playing a song together before performers take their turns, inviting others to share the spotlight with them. There is no true headliner and the band schedules posted around the venue merely said "Revival Tour." This organization allows the musicians to seem more like family and the audience to seem more a part of it. Clapping and singing along is a requirement.
On the tour with Chuck Ragan last night were Audra Mae, The Watertower Bucket Boys, Austin Lucas, Bob Lucas (Austin's father), and Jim Ward. It may sound like hyperbole, but each of these musicians was downright amazing.
Audra Mae will absolutely slay you with her honest and soulful voice. She sings bluesy country songs about heartbreak that, if you have any heart at all, will tug so hard at your heartstrings that you'll probably fall in love with whatever girl (or guy) dances nearby and spills her water on you. Just be warned, this is country music and she (or he) will leave you.
The Watertower Bucket Boys came out in lovely party dresses and work boots. The audience clapped along to every single bluegrass song about drinking that they played. They started with a cover of a Tumbledown song (Mike Herrera of Bremerton punk heroes MxPx's new country band), which seemed appropriate given that they hail from Portland. It sounded much better and more fun when these gentlemen played it.
Bob Lucas was spending his last night on the tour before going back home. He informed us that he had been playing banjo for about 48 years. That kind of experience just can't be found in the punk scene, for obvious reasons. He played a song about his love for the banjo that showed off exactly how talented he was at the instrument. His fingers were flying over the strings as he smiled and sang.
He and his son, Austin Lucas, played "Donkey Headed Woman," a duet that showcased how innovative he was as well. All evening, musicians would shout out keys that the songs were in so that the others could join in with little prior knowledge. They were all pretty standard keys: D, E, A minor, G, etc. However this song sounded different from every other and used chords structures that sounded completely strange. Mr. Lucas called it a "weird ass little song." It was one of the highlights of his time on stage with nearly every musician.
Austin Lucas played a couple songs and reminded us that he'd be back in town at The Tractor on Monday opening for Langhorne Slim. Austin's song, "Go West," has been one of my favorite songs since I saw him play it at the now-defunct King Cobra (opening for "punk rock retirement plan" locals Tumbledown) about nine months ago. It's clear he was raised in a musical family. Not just because his sister joined him and his father on stage, but because his guitar work is fantastic and his songs are heartfelt and wonderful.
Chuck Ragan played and it seemed like the entire crowd was singing along. His strong, rough vocals inspire us with their songs of perseverance. Similar to Bruce Springsteen and his common-man approach to music, Chuck Ragan makes us all a part of what is going on. The music is not only accessible, it's powerful and poignant and tells the stories we are all currently living.
Well past the switch to daylight savings time, Jim Ward took the stage. His voice fluctuated between Dylan and the signature sound from his post-hardcore band, Sparta. Oh, he was also in a little band called At the Drive-In. Ward's punk rock retirement is more of a blending of country and his post-hardcore roots. His passion really shines through on his songs.
A cover of Rainbow Connection by Ward (on banjo for the second time ever live, he mentioned) and Audra Mae had the crowd feeling young again on Halloween, despite being so early in the morning.
The Revival Tour is well titled. Not just a revival of the spirit, but a revival of things we might have forgotten. Revival of the pang of heartbreak or the joy of a simple song. Revival of clapping and singing along. Revival of our country roots after a hard career of rocking.
At about 2:45 in the morning, we all stumbled out of El Corazon revived and smiling. I would bet a dollar that many of the people in the venue had just had the most fun on Halloween ever. I know I did.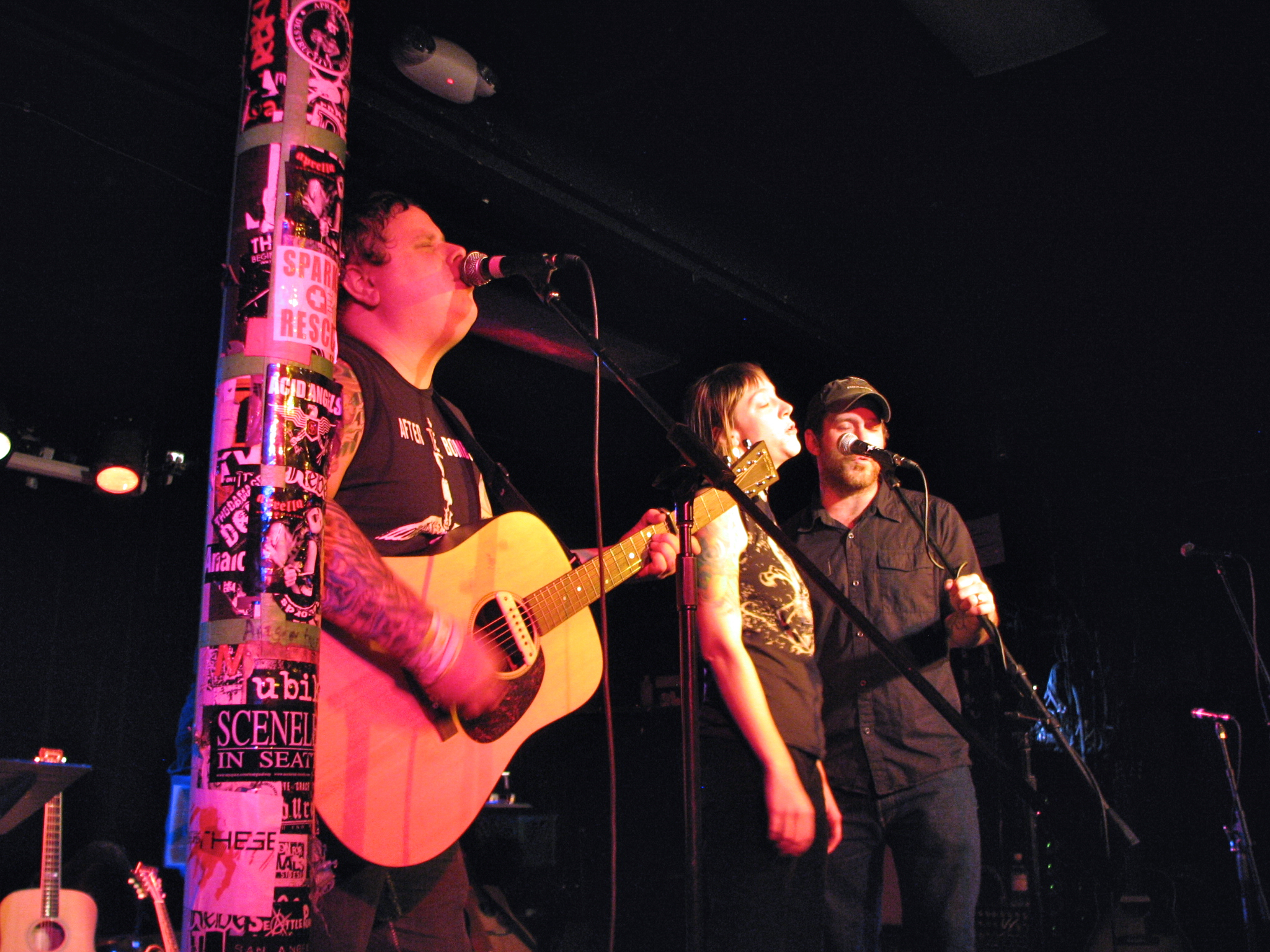 Keywords: revival tour, chuck ragan, el corazon, review, show, sunbreak, audra mae, austin lucas, jim ward, bob lucas, watertower bucket boys
143 views
comments powered by

Disqus