Waxwing, Nazca Lines – The Vera Project
Review
Published 08-25-2013 on my old wordpress blog.
Waxwing has always been a bit of a legend to me. I was away for college during their formative years and somehow missed buying any records or seeing them live for a long time. I guess I just had bad luck. While on a roadtrip in 2000, I remember sitting in a Minneapolis restaurant looking for something to do for the evening. As my girlfriend and I looked through the paper, we ran across their name and I said "I think I've heard of them." However, instead of attending the show, we decided to walk around the city and explore, instead. Quite likely the wrong choice. I didn't see the band until their "final" show at the Redmond Fire House in 2005. I didn't buy any records until well after that. However, when I heard the band was reuniting, I bought tickets immediately and started counting down the days.
As the day approached, I found myself searching for someone, anyone, to take my extra ticket. My housemate also bought four tickets and ended up having some strangers use the other three. I was worried that no one remembered this band and the Vera Project show would be just a handful of 30-ish year olds being nostalgic together. Judging by the stage banter, the band was slightly worried about this as well (or just being modest). Our shared fears went unrealized as the room filled up for the headliners. Though there wasn't as much singing along as I'd imagined, the old folks had a good time.
Waxwing sounded tight, accurate, and enthusiastic. In my relatively short experience with them, I place them as a sort of NW Hot Water Music. That emotional post-hardcore/emo edge is more melodic up here, undoubtedly inspired by emo pioneers Sunny Day Real Estate. Waxwing's sound is characterized by dramatic dynamic changes and heartfelt lyrics on the edge vocal capabilities. Though I stayed up front, out of the range of the main PA, the band sounded great. They are all talented musicians, of course, who have continued to play in other projects after the end of Waxwing. They've honed their skills and really nailed it last night.
It's no secret I've been a fan of Rocky Votolato's work. It probably helps that Rocky is about a month younger than I am. I admire his idealism and his honesty. I shy away from the sort of X-tian overtones, of course, but the message in his songs are usually ones I can identify with. Waxwing songs have that same inspiration. That feeling of meaning, like the songs speak about your own experiences instead of the experiences of the songwriter. Phrases like "It seems each new day has a job to do, to take its days worth of pain out of me and you" or "All of my prophets are singers of sad songs" make you feel like life is more of a shared joy than a solitary march through time. These sad songs give guys like me some hope, I suppose.
In recent years, my own disillusionment with the music that is being produced has grown. It seems that honesty, idealism, and songs from the heart are on the decline. Yet last night at the Vera Project, an old band brought out the old crowd and showed us that this thing we love will only die if we let it. And now that Waxwing is back together, we just might be able to show the world that music still matters. I'm looking forward to the continuation of the legend.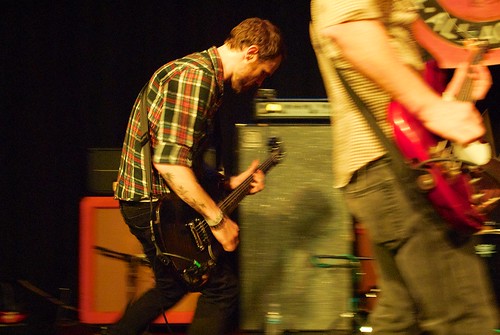 Keywords: rocky votolato, shows, vera project, waxwing
138 views
comments powered by

Disqus