Sunny Day Real Estate Reunite. Really.
Review
In my notes for the Sunny Day Real Estate show at the Paramount on Friday, I wrote one word: Real.
Yes, it was really happening. Even though I was lucky enough to see them at the "secret" pre-tour show in Tacoma, the show still felt like a dream. The Jealous Sound had just opened with Jimmy Eat World songs polished up in brown and plastic Los Angeles. Following that nice set, one of my top five bands of all time were playing right there in front of me. The one that was never going to get back together.
I'm sure there were a couple thousand people there, but it really felt like they were playing a small venue. Mostly because my hard-earned spot in the second row put me so close. Sure, there are drawbacks to the front few rows at the Paramount (like not being able to hear anything from the P.A., such as Dan Hoerner's guitar parts or Jeremy Enigk's singing during the loud parts), but my old friends that tagged along all agreed that it was a fantastic place to listen.
From the first note to the last, every bit of the Sunny Day Real Estate set was real. Not simply in the sense that it was actually happening, but in the sense that it was authentic. Not one single bit of the show appears to be manufactured. There were no laser shows or ridiculous introduction songs or injecting the name of the town they're in that night into their songs or urging to clap along or any of that big rock show nonsense.
It was just the band, a loud sound system and a few lights, and a group of enamored (or soon to be enamored) fans. This lack of pomp gives the Sunny Day shows an honesty that is truly touching. The more I start to think about this honesty, the more I begin to consider a similar trend from the greatest musicians of Seattle. Every one that I can think of (at least in the last 20 years) plays honest music. Music that touches on universal feelings, but only by externalizing deeply personal emotions and experiences. Perhaps this trend has extended outside of our fair city, but I'm a bit inclined to claim that it doesn't. At least, not in as high of a concentration. Maybe I'm biased.
SDRE recently played on the Jimmy Fallon show and he called them "hugely influential." For me, the influence started in my living room, 15 years ago, in front of a TV playing the alternative video show 120 Minutes. The first guitar riff of "Seven" played and my life was changed forever. I was listening to giant doses of silly pop-punk from the East Bay at the time and getting ready to graduate from high school and go to college and all that. And then, all of the sudden, I had to stop playing drums as fast as possible and think about playing them as meaningful as possible. As real as possible.
I drove down to Fallout Records and bought the last copy of Diary they had. They searched for quite a while before they found the free poster that came with it. I hung the poster in my room next to the free Green Day poster and proceeded to play the CD about one million times.
And then they broke up before I ever saw them live.
That all changed when a friend told me about the secret show in Tacoma a month ago. It was amazing. A few hundred of us packed into Hell's Kitchen, suffering through a bunch of bands for the wonder of Sunny Day Real Estate. It was magical.
I couldn't wait for the Paramount show. I couldn't wait because SDRE themselves are amazing and magical. And, if I may repeat myself a little bit to get back on track, they are amazing because of their honesty. It is clear that Jeremy Enigk is digging up some torment when he sings. He appears to be going through an exorcism at times, shaking his head back and forth, straining to hit the high notes, standing on the tips of his toes to hold back the emotion.
William Goldsmith plays the drums with unimaginable power and precision, tapping in to some deep rage but balancing it against a tightly controlled rhythm. Beautiful counterpoints and melodic guidance are provided by Dan Hoerner on guitar. Nate Mendel swirls around his bass in subtly exciting ways.
Each person in the band is calling forth some fundamental emotion. Yet, they aren't acting. They are simply freeing themselves from whatever constraints are placed upon them. They are being real. This is why we love them, because they inspire us to do the same. To step out of our comfortable selves and close our eyes and sing loud or celebrate or cry openly or whatever it is we feel we can't usually do. Whatever it is that keeps us from being real.
So, guys, when's the next show? And the new record, when does that come out?
For some excellent photos, check crickontour 's flickr set.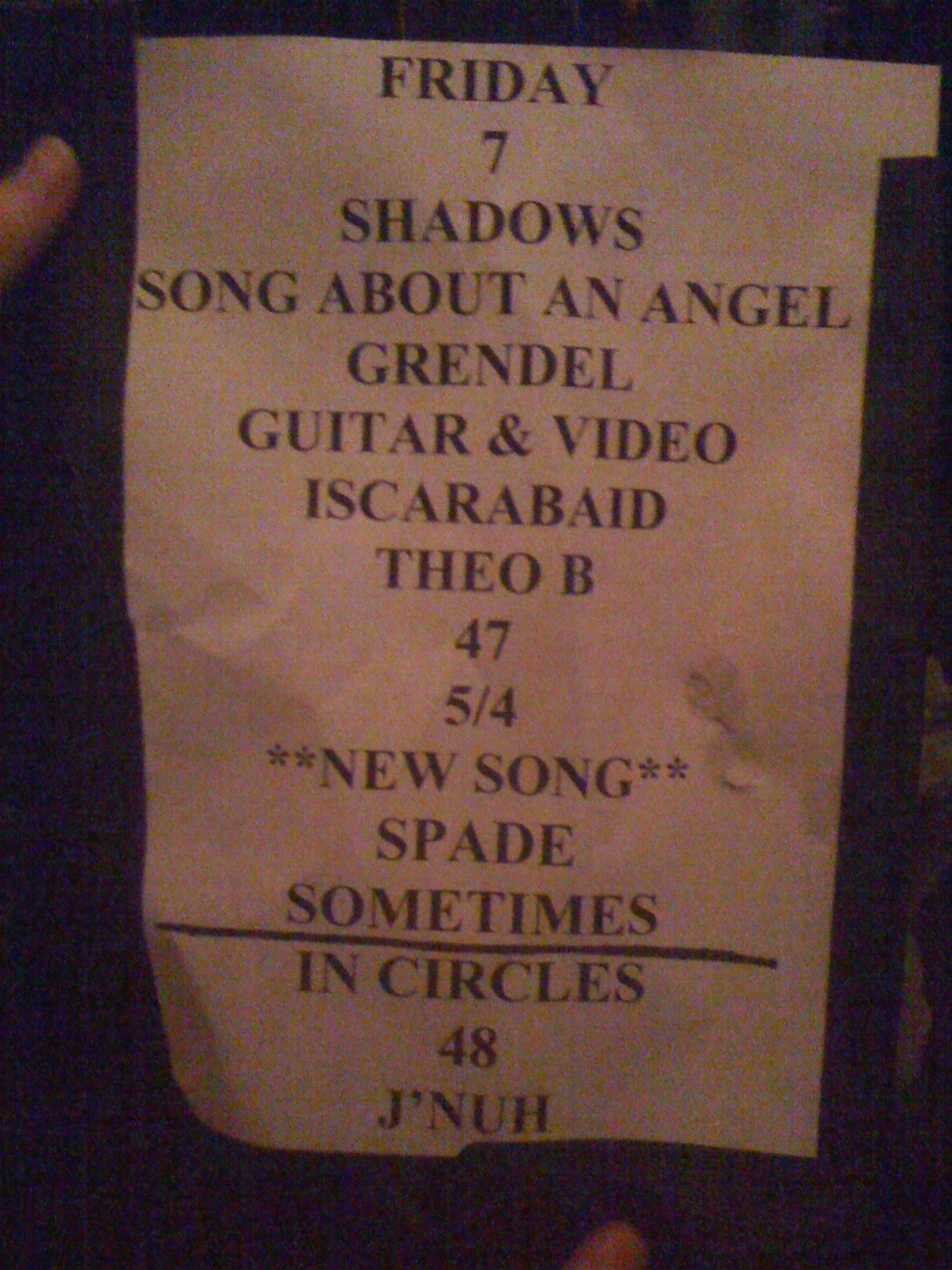 ** Old SunBreak comments **
def
word man. excellent review.
Comment by Jason Catudal
If you like this page, you can
buy me a coffee.
Keywords: sunny day real estate, paramount, the jealous sound, review, show, sunbreak
151 views
comments powered by

Disqus